by K.C. Mead-Brewer, designed by Natalie Mueller
The Unpaved is an augmented reality game designed by Computer Science graduate student Natalie Mueller and written by speculative fiction author K.C. Mead-Brewer. The story explores the Anthropocene through an interactive ecohorror fiction set on Georgia Tech's campus. We are currently completing the final stages of the design and will update this page with links to the app in January 2023.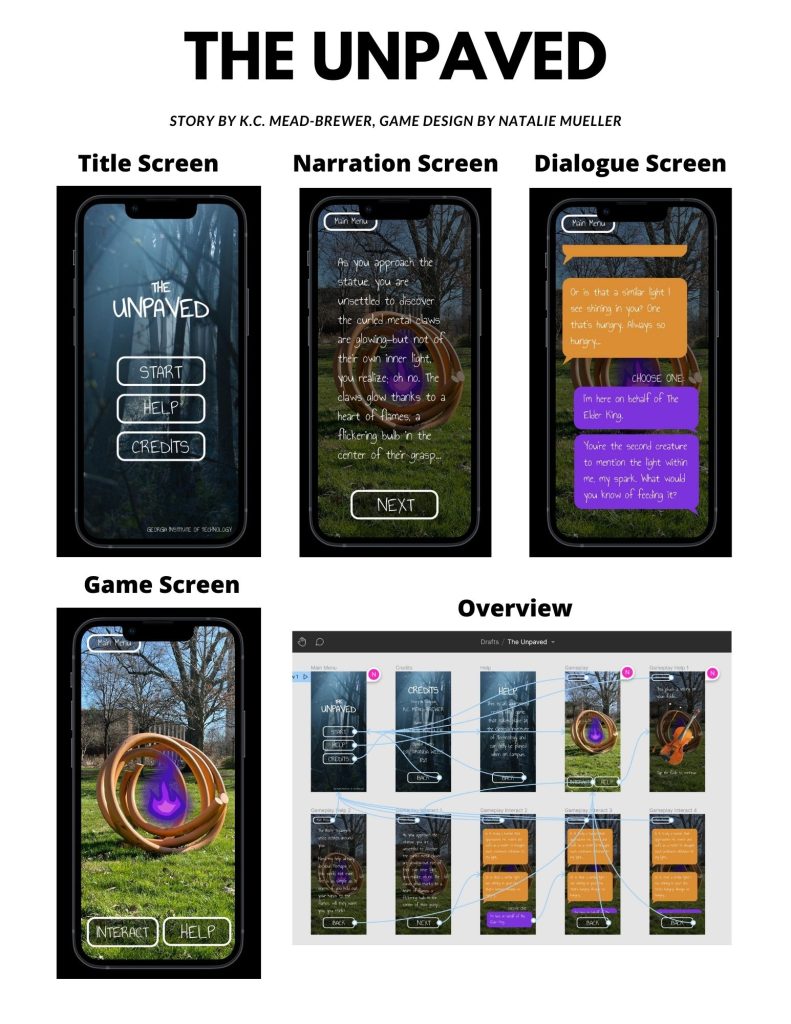 ---
About the Author
K.C. Mead-Brewer is an author and editor living in Baltimore, MD. Her fiction appears in Electric Literature's Recommended Reading, Strange Horizons, The Rumpus, and elsewhere. Her work has been nominated for the Pushcart Prize, Best of the Net, and is included in both 2019's Best Small Fictions and 2019's Best Micro Fiction. Her short story "The Hidden People" won CutBank Magazine's 2020 Montana Prize in Fiction (selected by Andrew Sean Greer), and her short story "The Daddy Thing" was one of Electric Literature's 32 most-read stories of the decade.
About the Designer
Natalie Mueller is an alumna of the Georgia Institute of Technology, where she majored in Computer Science (B.S./M.S.) and minored in Japanese. While at GT, her concentration was in Artificial Intelligence, and she also studied topics like Natural Language Processing and Computer Vision. She was inspired to work in the intersection of interactive media and speculative fiction by her love of tabletop role-playing games like Dungeons & Dragons, World Wide Wrestling, Paranoia, and Blades in the Dark.