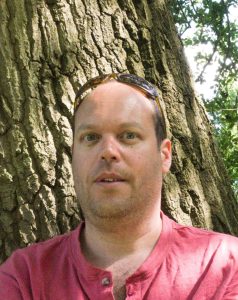 HIVEMIND spoke with author Lavie Tidhar about his short story in Issue 2.1, "Drowned," as well as his views on writing in the age of the Anthropocene.
HIVEMIND: Could you tell us a little bit about your inspiration for this story and the process of writing it? Was this solicited specifically for the Drowned Worlds anthology, or did this emerge out of a different project or starting point?
Lavie Tidhar: Most of my science fiction is set in this expansive future history, which I guess we're calling the Central Station universe now, but it includes at least a couple of novels, and over forty short stories, and in that world it's a very optimistic, Golden Age view of the future – you know, robots and spaceships and cities on Mars, cloud-cities on Venus, that sort of thing. And when the book Central Station came out, it took me by surprise, that people really latched on to that optimism, to the extent that one Silicon Valley company actually said something like "We want to make the Internet that's in the book". And I was sort of horrified! I just wanted to play with these cool science fiction toys, but of course the real issues the world is facing right now are much different – climate change and food poverty, lack of access to clean water, to power – really basic stuff.
And this coincided with the fact that when I finished writing Central Station I felt I had nothing left to say in science fiction. And I didn't write anything for a couple of years. And then, I won a literary prize in the UK for another novel (A Man Lies Dreaming), and they offered me a free residency in Korea, which I jumped at. So suddenly I was at a place called the Toji Cultural Centre in the mountains near Wonju in Korea, and it was founded by a writer called Pak Kyong Ni, who was a very influential writer in Korea, and as it turned out influenced me back into writing science fiction! I got to visit her old home, where she raised chickens and grew vegetables and wrote the final volume of her saga, Toji, which means "land". And when she'd finished it it was a national celebration, and she moved to the mountains and worked in the cultural centre she founded and looked after the visiting writers until she died. Amazing person.
So it was all that, and the nature around me, and I felt I could write a different kind of science fiction, and I started by calling the folder Toji – Land. And it became stories of the Land, which in my version is this post-apocalyptic utopia, basically. And "Drowned" was I think the first one of those. I never did get to write too many, but you can read more about Mai in a novella called New Atlantis, which is now up on the Kindle, and in a few other stories.
This is a very complex short story featuring stories embedded in stories embedded in a family conversation. What is the importance of storytelling/family/community for you? Do you also see this as an imagined return to the oral tradition post-environmental collapse?
I'm interested in stories – in narratives. In a way everything we live is narrated to us – it's told. We're swimming in narrative. So it's always interesting to deconstruct it, to look at the structure, to ask what it's really telling us. So this became a story about stories, in a way. I come from a big extended family, and that's a big influence on my science fiction, which is consciously going against that "lone hero" model of American science fiction – it's the idea that you can't go save the world because you have your second cousin's kid's birthday party to go to first, you know? Or everyone will get mad at you for missing it. Because you were too busy "saving the world"! Aha.
And yes, it's interesting you mention oral traditions, I think that's definitely a part of it, both in my own family (some of the stories I was told I used in my recent literary novels, Maror and Adama), and in the sort of places I lived, where it's very much a part of the culture, to hear the stories of the past told around the fire. I think it's a part of humanity, really, that need to pass on stories.
Old Grandma Toffle, Old Grandma Mosh, and Old Grandma Win are beautifully characterized in this story—in fact, every family member, every personality, every pet peeve, aside, and interruption are all so beautifully (and humorously!) articulated. Could you tell us about your process of writing characters and dialogue?
Ha! I don't know how to write it, necessarily, but I know big, messy families! I know people like this. I grew up on a kibbutz in Israel, in the last generation of true communalism, so I'm very aware of the, as you say, pet peeves and asides! And of course, they can be both infuriating and funny. I'm glad it came across for you!
This issue is about The Anthropocene, or era in which man has a major impact on the environment. For me, your story read as ultimately hopeful (a return to storytelling, community, and resilience); it was also very funny in a sweet and touching way. How do you use writing as a tool to address what can feel like a very pessimistic environmental future? Are humor and hope important elements in your work?
I felt writing a post-apocalyptic dystopia was probably the most pointless thing I could do. So I wondered, what if we went past all that and got back to utopia? And I wanted to talk about a lot of what I'd call "boring" technology, domestic technology, you know, the fact the most important technology we have isn't the Internet, it's washing machines. It's clean water. I spent a year living on a remote island in the South Pacific once, and in other places where you have no access to things like, say, refrigeration, or heating. And I think as a species we've survived perfectly well without some stuff. So I wanted to visit that sort of world, which is a little bit slower in pace, and a little bit smaller – I guess the Land is a bit like an island, in a way. And it is hopeful, and it is (hopefully!) funny – I think that's universal!
I've actually got a very cool children's book coming out next year that's all about hopeful futures. Because I think maybe I was wrong in my initial reaction to how Central Station was received – that actually, hope and positive visions are important, and it would be great to give children that hope that they can influence the future, as messed up as we made it. So that was a really fun thing to do, writing all these scenarios of life in the future, but also talking a lot about sustainability and nature and some of the philosophy of what we should be doing – should we look after the planet? Should we go into space? Should we do both? And just offering those imagined possibilities.
But I still want to get back to the Land some day soon!
---
About the Interviewee
Lavie Tidhar is the World Fantasy Award winning author of Osama (2011), Seiun nominated The Violent Century (2013), the Jerwood Fiction Uncovered Prize winning A Man Lies Dreaming (2014), the Campbell Award, Neukom Prize and Chinese Nebula winning Central Station (2016), Prix Planete SF winner and Locus and Campbell award nominated Unholy Land (2018), British Fantasy Award nominated By Force Alone (2021), Philip K. Dick Award nominated The Escapement (2021), The Hood (2021), Maror (2022) and Locus Award nominated Neom (2022). He is also the author of middle-grade novel Candy (2018 UK; as The Candy Mafia 2020 US), created the comics mini-series Adler (#1-#5, 2020) and edits The Best of World SF anthology series (2021-). You can see more of his work here: https://lavietidhar.wordpress.com/