by Max Butterfield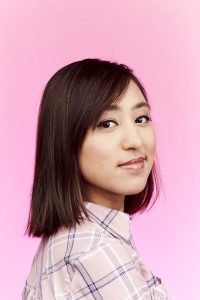 Hivemind spoke with designer Natalie Mueller about her work on our first AR game, The Unpaved. The game, written by Mead-Brewer and designed by Computer Science graduate student Natalie Mueller, is an ecohorror exploring The Anthropocene.
What drew you to computer science in general, and more specifically game design?
Growing up, I loved creative hobbies of all kinds, and in adulthood, I've picked up more and more. I've always loved drawing, animating, video editing, creative writing, music, etc, and found them as not only amazing mediums for self-expression, but for better empathizing with the people around me. As I got older and developed more of an interest in STEM, I saw all the amazing possibilities with software development and computer science. Starting some computer science courses helped me realize that I loved problem-solving, and as I got more into video games, I realized that game design was the perfect marriage between all of the things I enjoyed. I began making games with some friends in high school for fun and instantly fell in love. I especially liked creating Choose-Your-Own-Adventure style games, where the player's actions have large impacts on the storyline.
Do you have any favourite stories or authors, if so why?
My favorite story would have to be Banana Fish by Akimi Yoshida. I love stories that are character-driven and take a deep dive into the psychology and mindset of each person. Each character is presented like a real person with their own philosophies, contradictions, and agency to impact the world around them. It's a beautiful exploration of love and how each character is impacted differently by the hurt they've all experienced in their lives. In stories like this one, I feel like I'm experiencing the world through someone else's eyes.
What inspired you to create "The Unpaved"?
Dr. Weiss and I wanted our game to carry the theme of human impact on the environment, so the eco-thriller genre made perfect sense for us. It's easy for my environment to feel monotonous after walking the same streets for years, so another motivation was allowing fellow members of the Georgia Tech community to be able to re-experience the campus through our game. We wanted players to discover hidden corners and to view landmarks with a new perspective.
Kate really brought our idea to life with her story. Her quirky, spooky, charismatic characters breathed new life and mystery into the game and our campus. Like I mentioned before, I've always loved interactive, Choose-Your-Own-Adventure style games, and the story paths she wrote made the consequences of player actions feel real. The player could make choices that had a profound effect on the story and subsequent lives of the creatures around them. These, along with consequences that were permanent across saves, created an overarching sense of the permanence of human action and the fragility of the environment that meshed perfectly with the theme we had in mind.
Why did you choose to do a ARG?
When Dr. Weiss and I were brainstorming ideas for the game, we decided that we wanted to create something immersive, something that could imbue daily life and ordinary things with a sense of mystery and intrigue. We wanted our game to bring back a sense of wonder and imagination to the environment around us, so it made perfect sense to create an Augmented Reality game and set it on Georgia Tech campus. I also discovered a tool that would allow me to root characters and items to specific coordinates and altitudes on the globe, which seemed like the perfect way to imbue campus with a sense of dark mystery. We remembered the way games like Pokemon Go blended fiction with the real world and thought that integrating real landmarks with Kate's new characters and lore would convey our theme well.
Do you have any advice for people wanting to start computer science or game design themselves?
Go for it! Both computer science and game design can seem complicated and daunting, but once they're broken up into smaller, more manageable tasks, they're much easier to digest. The Internet is your best friend here – there's a wealth of free knowledge, tutorials, online courses, and question-and-answer forums (StackOverflow has saved me more times than I can count) that can teach you how to make basically anything. There's even software that you can use to make games without any programming experience required at all. Especially with today's technology, anyone with a laptop could sit down and learn how to make a game, and indie games are growing in popularity and accessibility now more than ever. Don't worry about making the next masterpiece – just start with making something you'd love to play. You can do this!!
---
About the Designer
Natalie Mueller is an alumna of the Georgia Institute of Technology, where she majored in Computer Science (B.S./M.S.) and minored in Japanese. While at GT, her concentration was in Artificial Intelligence, and she also studied topics like Natural Language Processing and Computer Vision. She was inspired to work in the intersection of interactive media and speculative fiction by her love of tabletop role-playing games like Dungeons & Dragons, World Wide Wrestling, Paranoia, and Blades in the Dark.
About the Interviewer
Max Butterfield completed his bachelor's in Aerospace Engineering at Georgia Tech in December 2022, with a focus on aircraft design. He has had an interest in speculative fiction since being introduced to Star Wars at an early age, especially from an engineering perspective on how fictional technology works. He also enjoys speculative fictions like Doctor Who, Dungeons & Dragons, and The Walking Dead.