by Max Butterfield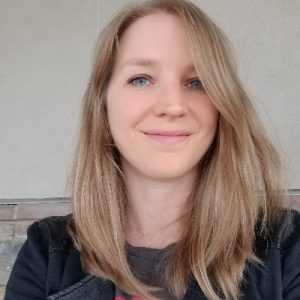 Hivemind spoke with author K.C. Mead-Brewer about her work on our first AR game, The Unpaved. The game, written by Mead-Brewer and designed by Computer Science graduate student Natalie Mueller, is an ecohorror exploring The Anthropocene.
How long have you been writing creatively, and what inspired you to start?
I've been writing stories for about as long as I can remember, but I think this practice started less from a love of storytelling and more from a desire for control. To have a place where things were completely up to me, a place where my thoughts were safe and could be made orderly. There's a peculiar calm that comes over my brain whenever I start to write, and I don't know what I'd do without it.
Do you have any favourite stories or authors, if so why?
The first author who always jumps to mind for me at this question is Kelly Link. I love how her stories move, how they're shaped. Her stories wind in a way that reminds me of forest paths, or of getting lost in a labyrinthine version of my favorite curio shop; they feel to me as delightful and strange as the very best opening credits sequences—something that's uncanny, beautiful, and bafflingly cathartic.
Mariana Enríquez is also a top favorite of mine for similar reasons. I'm a particular fan of her latest collection, The Dangers of Smoking in Bed. I haven't been able to stop thinking about that book since I read it; basically devoured it in a single sitting.
Stephen Graham Jones is another top favorite author. I'm a particular fan of his short fiction. (Then again, I pretty much always prefer short stories over novels.) Jones has such a fantastic talent for dread. His stories always slink and sneak and get under my skin in the very best ways.
What was the inspiration for "The Unpaved" game?
One major inspiration for "The Unpaved" was Angela Carter's short story "The Erl-King". Carter is one of those authors I return to again and again, and I always come away feeling breathless and horrified and delighted. As soon as I knew we were creating a game that dealt with eco-horror and how humans interact with their nonhuman environment, I immediately thought of "The Erl-King" and all the terrible romance and toxic wonder this story teases from a young maiden's violent entanglement with The Wilderness.
Another major inspiration for "The Unpaved" was game designer Natalie Mueller's fantastic idea to interweave different of GT's myths and superstitions into the tale. I was particularly excited by her description of characters like George P. Burdell and the elusive albino squirrel. I love how legends and gossip reveal the story-logic at work in our everyday, and so this was a particularly fun way to bring the game/story to life on a local level.
One other key inspiration was GT's campus. From the get-go I knew the game—and therefore the story—needed to be set in the heart of GT, but I've never visited the school myself. Natalie provided not only wonderfully detailed maps of various walkable routes around campus but also highlighted different of her personal favorite spots as well as plenty of nooks and crannies that felt particularly unique or haunted or lonely. Having such a dynamic set to work with was an exciting challenge while shaping "The Unpaved."
Was writing the game much different from writing a more traditional piece of fiction, if so how?
Oh, writing "The Unpaved" was wildly different from how I approach other stories. Amanda Weiss and Natalie laid out the story's list of Must Have's (i.e. location, limits, genre, etc), but otherwise invited me to come at the story from nearly any angle I wanted. I decided I didn't want to write a more traditionally-shaped story and leave it to Natalie to then adapt it into a game-shape. Not only did this seem like a bonkers amount of work to lay at Natalie's feet (though I know she would've done a stellar job with adaptation work), but at the end of the day, there's that desire for control again, rearing its head. Instead I approached the story as a CYOA (choose your own adventure), complete with a tree diagram, character / tools sheet, and multiple storyline options.
This was a major departure from how I normally tilt at first drafts, which, if I'm being honest, is largely a "just vibes" approach. Instead of feeling my way around in a cool setting or hanging out with a weird character for pages-on-end, for "The Unpaved's" CYOA, nearly everything needed to be shaped like either dialogue or a consequence. There was no room for meandering atmosphere or narration; for a story that's going to be interactive and cellphone-based, things needed to move crisply and focus on decision-making at every turn.
Do you have any advice for people wanting to pursue writing speculative fiction?
Volunteer as a reader for your favorite magazines! When I was first getting started, I served as a reader for Strange Horizons and it was a fantastic experience. Not only did it help me better understand the submission process from a magazine's perspective, but it also introduced me to tons of new editors and authors. It also showed me what kinds of stories were getting submitted on the regular, things to avoid doing, things that were being overdone or over-used, etc.
---
About the Author
K.C. Mead-Brewer is an author and editor living in Baltimore, MD. Her fiction appears in Electric Literature's Recommended Reading, Strange Horizons, The Rumpus, and elsewhere. Her work has been nominated for the Pushcart Prize, Best of the Net, and is included in both 2019's Best Small Fictions and 2019's Best Micro Fiction. Her short story "The Hidden People" won CutBank Magazine's 2020 Montana Prize in Fiction (selected by Andrew Sean Greer), and her short story "The Daddy Thing" was one of Electric Literature's 32 most-read stories of the decade.
About the Interviewer
Max Butterfield completed his bachelor's in Aerospace Engineering at Georgia Tech in December 2022, with a focus on aircraft design. He has had an interest in speculative fiction since being introduced to Star Wars at an early age, especially from an engineering perspective on how fictional technology works. He also enjoys speculative fictions like Doctor Who, Dungeons & Dragons, and The Walking Dead.