by Will Slater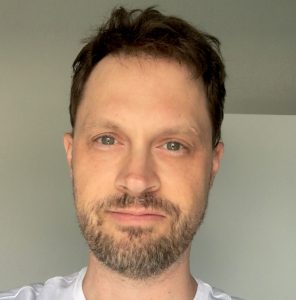 In January 2019, author and Chinese-to-English translator Andy Dudak published a short story, "Love in the Time of Immuno-Sharing", about a society in which the sharing of pathogens is willfully accepted as a means of pleasure. Now, more than two years later, that theme of plague is more relevant than anyone could have foreseen.
Hivemind sat down with Andy to discuss this story and its pertinence to Life in the Time of COVID, China's influences on him as a writer and a person, and the evolution of the science fiction community in both China and the United States.
---
Will Slater: You are known in the science fiction community for your original short stories, as well as your Chinese-to-English story translations. Which of these talents came first and what inspired you to transition to the next?
Andy Dudak: Well, the originals definitely came first. I've been trying to write those stories since I was a kid and I started submitting when I was a teenager. Then I sort of submitted for a while, and I got really serious and systematic about it around 2010. A couple of years after that I started to finally sell some stuff in my late 30s. The Chinese stories were just sort of accidental. I was in China teaching English, slowly learning the language for about a decade, and editing Chinese translators' English. Then I transitioned from that into just translating, sort of a gradual process. At first it was just boring stuff like contracts and things like that, but then in 2016 at MidAmeriCon Worldcon in Kansas City, a friend suggested I try translating fiction. I approached Neil Clark, the editor of Clarkesworld, at a bar, and that was it. I've been doing it since then, about five years.
Will Slater: How has the role of translation work impacted your writing?
Andy Dudak: That's a hard one. I mean, I've been trying to figure out what influence it's had, and I can't. I've asked other translators about it I can't nail them down on it either, they won't commit to an answer. Like Ken Liu, author and translator of Liu Cixin's The Three-Body Problem. I've asked him a number of times and he won't commit to a definite influence that translating has on his original writing. I think the one definite thing for me was that it gave me exposure to more translations. I read more translated fiction now, not necessarily just Chinese either. A lot of Latin American literature and stuff like that. It's broadened my reading, if nothing else. Maybe it has also led to me picking apart sentences more, paying attention to the mechanics of a sentence more, and becoming a little more, how would you put this? Obsessive about the small things, the sentence structure, etc.
Will Slater: A little more nuanced?
Andy Dudak: I hope!
Will Slater: Your previous work, "Love in the Time of Immuno-Sharing", reflects themes of infectious diseases that permeate society. And in revisiting that story, are there any thematic elements that stand out as most relevant to what we as a global community are currently experiencing as a result of the coronavirus pandemic?
Andy Dudak: Well, I wrote it in 2016, revised it in '17, sold it in '18, and it came out in '19. It was all before coronavirus, but I guess the story explores the way that plague can influence society. I took it to an extreme in that story where they were withholding immunity as power. We're seeing a little bit of that already with vaccine diplomacy in various countries, that I won't name. Maybe we are too. From gunboat diplomacy to vaccine diplomacy. In my story it was more about a dictator holding power by withholding and distributing immunity. But in the case of some countries now, they're withholding the vaccine in exchange for concessions with trade or politics. It's really strange. Some people in the story enjoy plague because it inspires their immune systems, which are pleasurable, but it doesn't really hold in our world, obviously. But the story's dynamics of power and immunity definitely.
Will Slater: Speaking of pandemic inspiration, has anything that you're currently working on been impacted by the coronavirus pandemic? Have there been any inspirations that have come from what we're all collectively experiencing right now?
Andy Dudak: For me, I have to live through something and then digest it, and then it might or might not percolate into fiction. Like China, I was there from '08 to '18, and I didn't even try to start writing about it until recently. I guess I need time to digest that. We are still in the midst of this, and who knows how long it's going to go on. But I think down the road I might revisit it. I might revisit the world of that story "Immuno-Sharing". I don't know. I guess we'll see.
Will Slater: What about China or Chinese culture specifically inspired you to move to China and focus a lot of your work in that cultural space?
Andy Dudak: When I left China, it was one-fourth of my life. When I first went, I was just trying it out. I was only going for a year, teaching English there, teaching English there for a year. The work was easy and it gave me a lot of time to do my own stuff, like resuscitate my own writing. Then I started to pick up the language. You learn a little bit and then you feel like, "Well, I might as well go a little further. I might as well take this next level test. I've done that, now what goes next?" Then you're stuck and then you feel like "I might as well see this to its conclusion." Story wise, my recent story in Clarkesworld was out last month, "Songs of Activation". There's an imperial exam that's based on Confucianism and the old imperial system of China, and the exam system where you take this test is meant to test your knowledge of Confucius and poetry and all kinds of stuff to get into the civil service of the empire. That worked its way in. The other part of that story is university life, high pressure university life. That's definitely from my years in Chinese universities where I saw these young people really studying hard, harder than I've seen a lot of Americans study, and walking around reciting things in the middle of campus. A lot of details like that and the crowded dorm rooms made their way into this story. It's a science fictional space empire, but details like that were inspired by my experiences in China.
Will Slater: What similarities and/or differences have you experienced between American and Chinese science fiction writing?
Andy Dudak: Both America and China are big, complicated, diverse countries, so it's hard to characterize either one of them as a whole, but China is going through a lot of their phases all at once. We went through the Golden Age, New-Wave, Cyberpunk, Eco-Punk, and whatever is coming afterwards, Hope-Punk and stuff like that. They're doing it all at once. They've been at it for a long time too, but the recent surge mixes all those at once. The authors of translated works are so varied. Anything from the Golden Age stuff of the old Cixin works, big ideas, big adventures, big things happening like an Arthur C. Clarke story, versus more personal stuff like Tang Fei or Chen Qiufan. It's just a mix. They're doing it all at once whereas we did it era by era. I think it's because they're changing so fast, and suddenly there's this huge interest in Chinese sci-fi. It's getting translated more than ever, published more than ever, and I guess that encourages young writers to take a crack at it.
Will Slater: As a translator, how do you as a translator ensure that you preserve the author's specific vision across a language barrier? Is that even possible when you're bridging the gap between two languages with such linguistic dissonance as Chinese and English?
Andy Dudak: Yeah, it's complicated. One way I try to get as close as possible is talking with the author as I go, on WeChat usually. But what I learned early on is that you can't just ferry meaning from one language to another. You've got to recreate a reader experience. This comes from Ken Liu's earlier writings on translation of the craft, He's been a mentor. He's helped me with specific language issues and navigating the industry. When I got started in 2016, I read a lot of his essays on translation. It's about recreating a reader's experience. Sometimes you have to abandon literal translation when it comes to idiomatic language, but sometimes you have to aim to recreate what the Chinese reader would feel in an American reader. That sometimes involves changing things, adding things here and there. So it's more about keeping in mind what a Chinese reader might have experienced, and trying to come close to that in a Western mind if that makes any sense. That sometimes even means talking to a Chinese reader. Interrogating a Chinese reader on how they felt when they read a story can be part of the translation process.
Will Slater: Are there any upcoming projects that you're working on that you would like to showcase?
Andy Dudak: Yeah, I've got a new Clarkesworld story I'll be working on in March 2021. Right now, I'm working with Jiang Bo on his novel, The Machine Gate. Chen Qiufan is working on an A.I. themed anthology with Kai-Fu Lee. He's the former head of Google in China, and he's an expert in A.I., and it's really exciting. I'm working on my second Chen Qiufan story for that called "The Quantum Genocide" or the "Human Brain Project". It's pretty fascinating stuff. Every story in this anthology is going to imagine how A.I. affects different aspects of future life. The first one I translated was called "The Job Savior". It's about the future of labor and how automation and A.I. are going to affect that and universal basic income. The one I'm working on now is about terrorism, fighting crime in the age of A.I., and cryptocurrency.
© 2021 by Will Slater
---
About Andy Dudak
Andy Dudak's fiction is featured in Jonathan Strahan's Year's Best Science Fiction and two volumes of Rich Horton's Year's Best Science Fiction and Fantasy. His stories have appeared in Analog, Apex, Clarkesworld, Interzone, The Magazine of Fantasy and Science Fiction, and in Science Fiction World (科幻世界), which boasts the largest sci-fi readership on the planet. His story 'Love in the Time of Immuno-Sharing' was a finalist for the Eugie Foster Award. He translates Chinese sci-fi and was a digital nomad until the Plague hit. He likes frogs and believes in the healing power of Dungeons & Dragons.
About Will Slater
Will Slater is a graduate student studying Global Media & Cultures at Georgia Tech with a concentration in Spanish. His interests include cross-cultural communication as it relates to the development of creative industries with a Latin American focus. Specifically, he is currently examining Latina documentary filmmaking in Puerto Rico and why feminist Puerto Rican cinema should be utilized as a lens through which to examine some of the societal issues that have stemmed from the colonial framework that defines the relationship between the United States and Puerto Rico. As much as he's fallen in love with the writings of short story authors such as Ted Chiang, Ken Liu, and Jorge Luis Borges, his favorite piece(s) of speculative fiction will always be his first exposure to the broad genre, the Star Wars franchise.